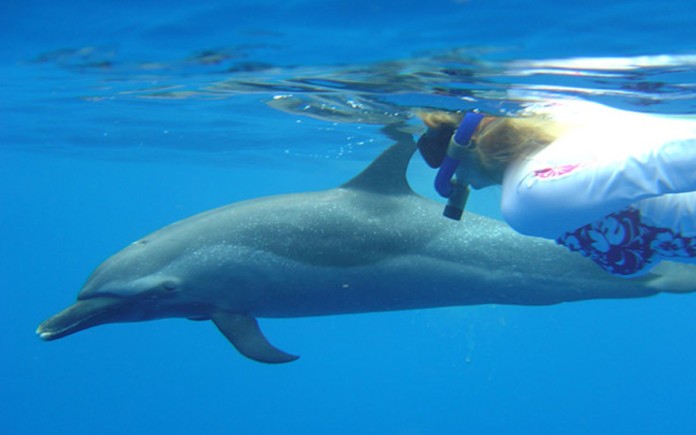 Hangin', with Respect
Just off the the Kona coast, on the big island of Hawaii, live some of Earth's most entertaining, gentle and magnificent creatures. Spinner dolphins, Manta Rays and Humpback whales make their homes either part of the year or full year in the warm Hawaiian waters. With preserving and conserving the environment as the underlying principle of Sunlight on Water, they plan each and every tour with ecotourism principles firmly in mind. According to www.ecotourism.org, ecotourism is "about uniting conservation, communities, and sustainable travel. This means that those who implement and participate in ecotourism activities should follow the following ecotourism principles:
minimize impact
build environmental and cultural awareness and respect
provide positive experiences for both visitors and hosts…"
It is with these practices held close to their hearts that Sunlight on Water plans each tour with the aim of protecting these beautiful species and their environment for future generations.
Get the most enjoyment from your vacation investment
Everyone loves getting the most for their money, so before booking your tours, be sure to get your Shaka Gold Card from HawaiiFun.org for only $30! Your investment will bring great rewards as it saves you from 10-25% at Sunlight on Water and many other places throughout the Hawaiian Islands.
The Dolphins
Take a moment to think about what it would be like to truly have no words to describe an experience. For many people, that is what it is like the first time they find themselves swimming alongside a dolphin. Now try to imagine the feeling of being amongst many of these playful creatures. Sunlight on Water has a 99% success rate in locating dolphins each and every time they go out, so you can be assured you will not miss out on this thrill of a lifetime.
"…the highlight was swimming with pods of dolphins and then having a humpback whale cruise by me just a few feet away!"
Claire T. on Yelp, 2016
An Evening with Manta Rays
Why do we go out at night to look for Manta Rays? A good question. It is thought that Manta Rays may be more likely to feed at night because this is when plankton, their natural food, rise up and are easier to reach for these giant butterflies of the sea. Sunlight on Water has special state-of-the-art lights which attract these various planktonic species at night, thus attracting the Mantas. You will be able to view the dance of these graceful creatures as they swim and dive, enjoying their evening meal.
"…the view of the manta rays looping their way up to eat the plankton is truly stunning."
"…if you're going on the big island, you need to do this!!! and please book these guys, we don't get anything out of this, but they were very nice young crew, we enjoyed every minute of it."
David L. on Yelp, 2015
Humpback Whales in Winter
If you are in the neighborhood in January, February or March, join us for a whale watching tour as Humpback whales calve and frolic with their newborn offspring.