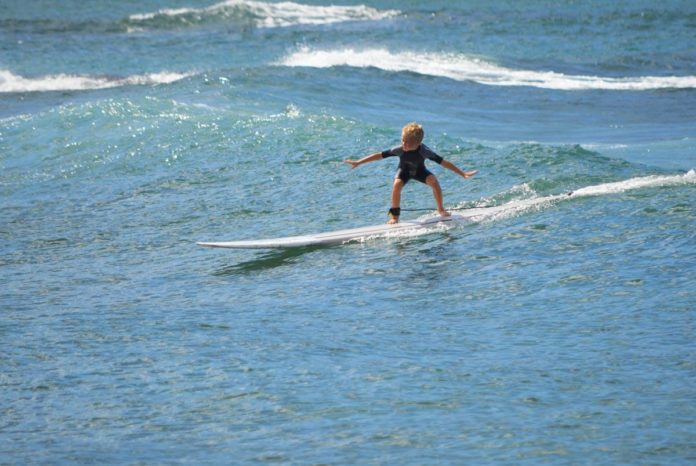 "It's like the mafia. Once you're in – your in. There's no getting out."
That well-circulated quote from Hawaii's eleven-time champion surfer, Kelly Slater, sums it up for many professionals and non-professionals when it comes to riding a wave.
If you have wondered why surfing is such a popular worldwide sport and enjoyed by men and women of all ages, why not experience the joy of surfing in its birthplace of Hawaii? You're sure to catch a wave with Island Style Adventure Surf School.  And among the many reasons to choose this 16-year old company is location.
Located at beautiful Kaanapali Beach on Maui, if you have others traveling with you who are feeling less adventurous, there are many ways for them to stay entertained including world class shopping at Whalers Village.
Expert (passionate) instructors make it easy.
The instructors at Island Style Adventure Surf School takes their jobs seriously. In fact, the school has gained the title of one of the best surf schools on Maui. One of the reasons for their high ratings is what they call the "3:1 student:instructor" rule. This specialized attention means you will have the support and attention you need. And that means you will have a quicker grasp of the sport and be enjoying riding waves sooner, too!
Getting you standing up and riding a wave is almost as thrilling for the instructors as it is for you!
All Ages and Levels Are Welcome!
You have plenty of ways to get yourself or your entire family involved.
More Reasons to choose Island Style Adventures!
"My two-hour private surf lesson was awesome! Everyone was very enthusiastic and friendly. Island Style provided all the equipment we needed, and they stored our belongings during our lesson, and even offered to keep my rings locked up behind the counter so I wouldn't lose them. After getting our gear on, they took some fun photos on the beach to remember the occasion"  -Yelp Review, Glen J., January 2016. 
Don't leave Maui without a picture of you riding a wave. Those are braggin' rights everyone will want to share. You could go viral in your social circles.
And don't risk learning this fun sport with anyone but the crew at Island Style Adventure Surf School. It's always safety first with instructors that are Water Safety, First Aid, and CPR certified!
And in case you missed it, be sure to get your Shaka Gold Card, and receive your amazing discounts for surfing and other Hawaiian Attractions for up to four people on every participating member in the entire state of Hawaii!