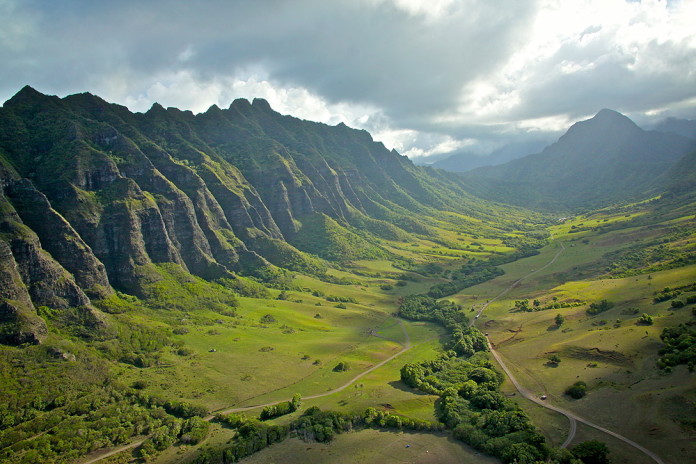 From the towering mountains to the warm Hawaiian Ocean, Kualoa Ranch is a truly special place that leaves visitors in awe. This historical 4,000-acre cattle ranch's scenery is pure heaven and offers an idyllic location for fun activities for guests of all ages.
Explore the countryside with an ATV tour and a horseback tour! Enjoy the wind through your hair and learn the history of this sixth generation family-owned ranch with the Treetop Canopy Zipline Tour. Kualoa Ranch offers a vast variety of events, which makes this a true dream spot for the adventurer at heart.
Looking for a peaceful tour that entwines scenery and simplicity? You're in luck with the Ocean Voyage Tour. Guests of all ages can enjoy spectacular views of the iconic Mokoli'i Island and Hokule'a Beach. That's not all, however! Venture through the Tropical Garden and Fishpond Tour where guests of all ages are greeted to a special event that weaves history with beauty!
After a day of adventure what better way to experience Hawaii than to roll out the red carpet and trek into Hollywood's "Hawaii Backlot!" Site of over 50 Hollywood blockbusters and movies, this tour is a must-see for the young and young at heart. Hop aboard a vintage school bus and ride into Ka'awa Valley. In this 90-minute tour, guests will receive a front-row seat to the infamous Jurassic Park fallen tree, Godzilla's footprints, and much more!
Swing out of Hollywood's  "Hawaii Backlot" and into the jungle. Oahu's best jungle tour is a 90-minute tour that takes guests three and older deep into the peaceful and beautiful Hakipu'u Valley. Trek pass isolated streams, view an awe-inspiring 800-year-old fishpond, and venture your way to secluded spots that overlook Oahu's eastern coastline!
This sixth generation family-owned enterprise is located in one of the most historically significant areas on O'ahu. This sacred place is a truly captivating experience that merges mystery, history, beauty and fun all into one special experience for adventurers of all ages. Be sure to bring your camera, as this is one ranch guaranteed to leave you with lasting memories.
After a day of fun and adventure, treat your appetite to Aunty Pat's Cafe. Here you'll find farm fresh, 100% grass-fed beef. Meat lovers can eat happily knowing their eating the finest beef on the island. This means no hormones or antibiotics!
All the memories and fun to be shared can be found on the Kualoa website. The ranch is big enough for adventure and yet small enough to hold the most special of events including weddings and birthdays. Be sure to book your tours in advance as due to the popularity, spots go fast. So what are you waiting for – paradise is now just a click away!
Additional Information:
Address:
49-560 Kamehameha Hwy,
Kaneohe, HI 96744
Book your reservation Toll Free: (800) 231-7321
Reservations Desk: (808) 237-7321