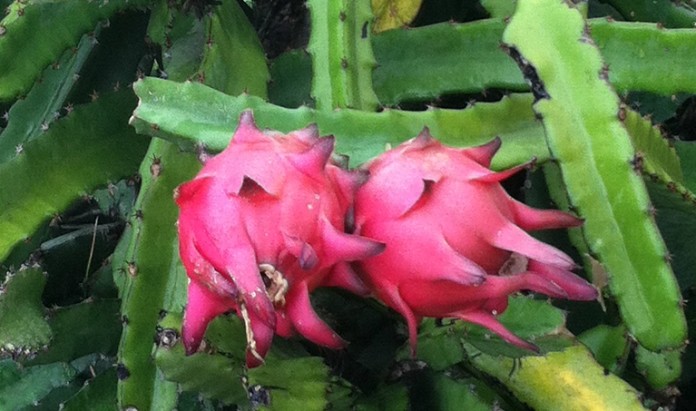 Just outside of Lahaina, on the Hawaiian Island of Maui, golden pineapple, tasty banana, sweet papaya, sugar cane and exotic passion fruit all come to life at the Maui Dragon Fruit Farm, along with their signature crop, the amazing Dragon Fruit. A USDA-certified organic farm, Maui Dragon Fruit Farm offers walking tours of their various growing fields, tasty samples of their seasonally available fruits and exciting activities for one and all.
"…having our own personal guide to explain about the many fruits of Maui was awesome."
 – BostonRedSoxFan2004 on TripAdvisor
Get the most enjoyment from your vacation investment
Who doesn't love to get the biggest bang for their buck? Before booking your tours, be sure to get your Shaka Gold Card from HawaiiFun.org for a mere $30.00. Your investment will reap you great rewards as it saves you from 10-25% at Maui Dragon Fruit Farm and many other places throughout the Hawaiian Islands.
Excitement for even the youngest Island visitors
After you have toured the farm and sampled some drippingly delicious fruit, step on over to the Maui Dragon Fruit Farm Zip Line, fashioned for all ages, but keeping little ones, especially, in mind. It is suitable for children as young as five. The Zip Line Package includes four runs, allowing you to practice a time or two and still have runs left to revel in your newfound skill! During the main growing season from July through November, you will have overhead views of Dragon Fruit in their naturally developing states from flower bud to plump, juicy fruit, depending on what time of year you visit.
"I didn't have a good time, I had a great time!"
– Seven year old daughter of Bethany D. on TripAdvisor 
Time to cool down
Don't let the adventure stop there, however. The farm boasts an exciting, yet refreshing, Aquaball Adventure. Climb into the giant double walled Aquaball. Your hosts will add a bucket or two of refreshing water, secure you into your vessel and send you on your way. Fun for all ages, kids especially will love testing their strength and coordination as they try to guide and steer their own Aquaball along the specially excavated path. Grown-ups may prefer just rolling along the winding path, taking in the panoramic views of the nearby coastline and the West Maui Mountains in the distance.