If you are looking to sightsee but don't want to necessarily drive, fly, peddle or walk, horseback riding is a perfect option.  You'll to get in touch with that part of you that is a "little bit country" while being out in Maui's surreal nature. Get in touch with that little cowgirl or cowboy that lives within each of us and add this to your Hawaii Fun things to do list.  "Paniolo" is the Hawaiian name for Cowboy and toward the mountains or "Mauka" is where you'll find Maui's ranches. Tucked away in the mountains and valleys of Maui are four companies that will fulfill these needs – companies that each offer you a unique experience and different approach of sightseeing around the island. Each company provides a trail guide and is family owned and operated so no matter which one you choose, it will have a homey, family feel with a personal touch that makes the activities that much more memorable. Glide through Maui's hidden geographic wonders on a majestic horse and see why Maui is considered one of the most beautiful islands in the world.
West & Central Maui: Ocean Views, Lahaina Town
Lahaina Stables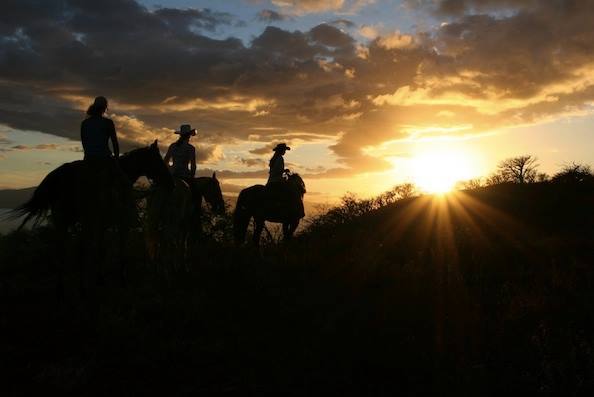 Located on the West side of Maui in a secluded, remote but totally accessible area, Lahaina Stables is the only company on Maui that provides trail rides through Launiupoko Valley. They offer three types of horseback rides: a Morning Ride, a Lunch Ride, and their romantic and special Sunset Ride. The Morning Ride gives a peek into the history of Hawaii and you will see not only Maui, but Molokai and Lanai as well, which at one time were all connected as one island. The Lunch Ride also gives guests the opportunity to view all three islands and have a quaint lunch next to a fresh water reservoir on site. Their Sunset Ride makes for a spectacular transition from daytime to the coveted warm Maui evenings. No matter the activity you choose, you will feel at home at Lahaina Stables. With breathtaking views and a laid-back energy, Lahaina Stables provides a memorable adventure for the whole family.
Featured – Sunset Ride
If you're looking for a romantic excursion or just a nice little getaway for the evening, the sunset ride is an excellent way to spend your time. Whether accompanied by friends or family or simply enjoying a quiet evening by yourself, this peaceful ride is great for everyone and is coupled with an unforgettable Maui sunset.
Website: www.mauihorse.com  Call: 808-667-2222 or Toll Free: 888-842-7663
Mendes Ranch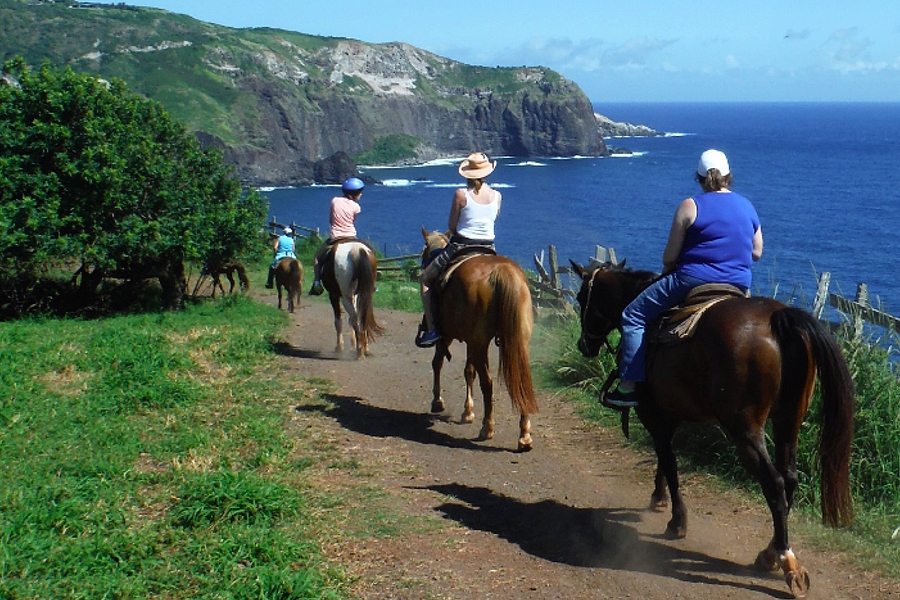 Founded by a multiple generation family that originated in Portugal and came to Maui in the 1800s, Mendes Ranch gives an authentic paniolo experience. The ranch is situated just outside of Wailuku. It is nestled in the north facing side of the West Maui Mountains. Riders have expansive views of the valley, coastline, and the Pacific Ocean. Mendes Ranch offers the Aloha Morning Ride and Aloha Afternoon Ride, where guests travel from the corral down to the edge of the valley to view the ocean. It's definitely a sight to see. Aside from their popular horseback rides, they also offer two hiking adventures if you're feeling like trekking the trails yourself. Not only does Mendes Ranch offer hikes and trail rides, both group and private, they also host and provide a prime and picturesque location for weddings, parties and all kinds of other events. Contact them directly if you are interested in booking an event or a combination tour, such as their Horseback – Helicopter excursion.
Featured – Morning Aloha Ride
This guided ride will take you from Mendes Ranch Corral down the valley to take in the ocean view. It is an exceptional experience that is fun for everyone.
Website: www.mendesranch.com   Call: 808-871-5222
Upcountry Maui: Ocean & Mountain Views
Piiholo Ranch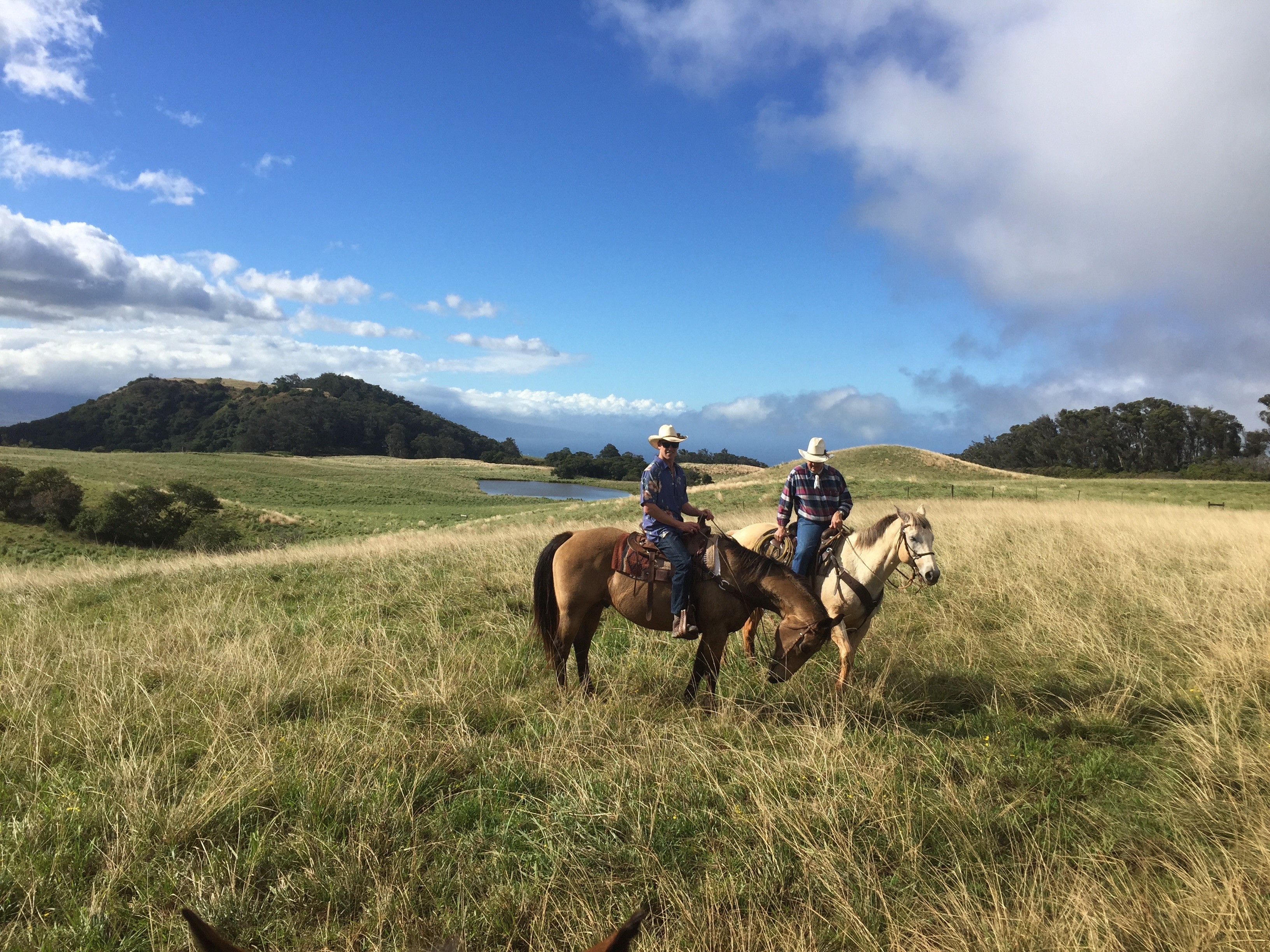 Henry Perrine Baldwin and his family were one of the original missionary families on Maui. His Great Grandson, Peter Baldwin founded Piiholo Ranch. The Baldwin family has resided on Maui since 1835. The ranch is located just outside of the paniolo town of Makawao on the Piiholo summit (peak 2,260 feet). It is only a short 30 minute drive up Haleakala from Kahului.
Piiholo offers four different types of horseback rides: a Two Hour Private Ride, a Three Hour Private Ride with lunch at the Baldwin family cabins, "Cowboy for a Day", and Private Riding Lessons are also available for both keiki (children) and adults. Aside from the amazing horseback rides, Piiholo Ranch also offers an elite Heli Ranch Experience, which includes roundtrip limo transportation, a helicopter ride with views of Haleakala, Hana Town and the exquisite east Maui waterfalls, snacks at Piiholo's Private cabins and to top it off a two hour horseback ride. This is definitely a tour that has everything you could want to explore the hidden gems of the island. Whatever activity you choose, Piiholo ensures a fantastic, unique and fun experience for all to enjoy.
Featured – Cowboy for a Day
You'll be hard-pressed to find many ranches that provide the opportunity to experience first-hand what it's like to be a cowboy on a cattle ranch. Including rides through the ranch pastures and physically rounding up the cattle on horseback, this excursion will be both fun and educational; you will definitely have a story to tell to friends and family at home.
www.piiholo.com   Call: 808-270-8750
Pony Express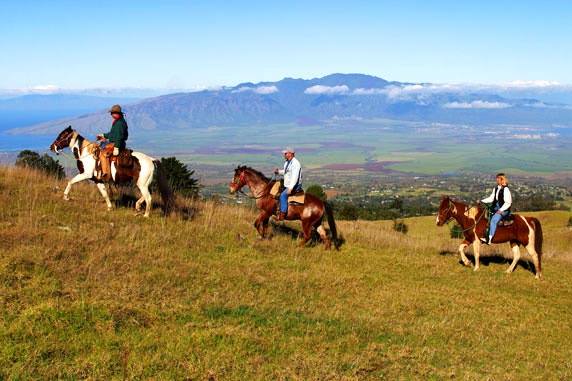 Pony Express is an established horseback riding tour company on Maui and a part of the largest working cattle ranch on the island, dating back to the late 1800s. Located in upcountry Maui on Haleakala Ranch, this company features two different types of horseback rides for guests to choose from: The Haleakala Ranch Paniolo Ride and the Haleakala Ranch Mauka Ride.
The Paniolo Ride is two hours and allows guests to travel through the expansive pastures with their knowledgeable guide. The Mauka Ride is a bit shorter than the Paniolo Ride and is best for those who are pairing their ride with another activity upcountry, such as visiting the top of Haleakala Crater, having lunch at the Kula Lodge or Ziplining at Pony Express' neighbor, Skyline Eco-Adventures. At an elevation of 4,000 feet, guests have panoramic views of the island and are in a prime location to view the lush, magnificent land and ocean that make Maui so amazing and this experience even more exceptional.
Featured – Mauka Ranch Horseback Ride
This ride is an hour and a half and enables guests to experience Maui's beautiful Haleakala Ranch in upcountry Maui while aided with a guide well-versed in riding and Hawaiian culture. It's an opportunity to have fun and learn more about the island.
Website: www.ponyexpresstours.com   Call: 808-667-2200
All four of these companies participate in Hawaii Fun's Shaka Gold Card Program and offer savings for members. Don't miss out on the opportunity to support local businesses, experience Hawaiian culture, and have so much fun doing it!
Visit www.HawaiiFun.org for more details or Call 808-871-7947 or Toll Free 800-398-9698