Snorkeling enthusiasts from around the world visit the Hawaiian islands every year. Water visibility, aquatic life, and history combine with warm weather and stunning scenery to make this a much-dreamed-about vacation destination. Come and explore the best of Hawaiian snorkeling with Fair Winds Snorkeling.
The Vessels
Step aboard the Fair Wind II for a family snorkeling adventure for all ages. Two sets of stairs make it easy for guests to enter and exit the water. There are also two 15-ft water slides and a high jump platform for thrill-seekers. Sure, people can jump or splash into the water but the snorkeling is the real draw here. Custom view boxes, inner tubes and boogie boards with windows allow everyone, even those with no experience, to soak in the sights of the underwater world. This vessel will take guests to Kealakekua Bay, where they can see the Captain Cook monument and the marine sanctuary.
Experienced snorkelers and children over 7 can explore from the Hula Kai, a 55-ft catamaran with all of the luxuries and comfort vacationers could ever want. This ship will take passengers along the South Kona coast for over-the-top snorkeling adventures.
Snorkeling Packages
Fair Winds offers guests morning, evening and even night snorkeling. Snorkel and barbecue cruises are popular. Guests are wild about the nighttime manta ray snorkeling.
Morning Kealakekau Snorkel and BBQ Cruise is perfect for early risers. This 4 1/2 hour cruise starts at 9 and ends at 1:30. During this time guests will see where King Kamehameha was born and where Captain Cook met his death. Snorkel gear and instructions are provided. Flotation devices are provided, too. A tropical breakfast of items like eggs frittata and fresh island fruit are served with Kona coffee. Snorkel for 2 1/2 hours and then enjoy a BBQ lunch of hamburgers, hotdogs, fresh island fruit, and drinks.
Afternoon Kealakekua Snorkel is a 3.5-hour version of the morning snorkel, without the food. Snacks are provided as well as the snorkel equipment and flotation devices. This cruise has a no-host bar for guests to enjoy. See Kuamo's Battlefield and other historical sites as the vessel heads to Kealakekua Bay. This cruise starts at 2 and runs until 5:30. Kids 3 and under are free!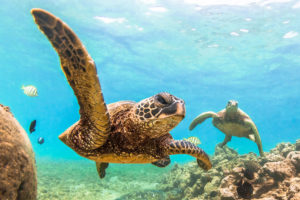 Deluxe Kona Coast aboard the Hula Kai is for the more experienced snorkelers and ocean lovers. The 5-hour cruise starts at 9:30. Guests will enjoy a tropical breakfast buffet, BBQ lunch, snorkel gear and instructions, stand-up paddle boards, and two unique snorkel destinations. See plenty of historical sites like the Royal Holua Slide. View the abundance of marine life that fills the waters of Pali Kaholo or Red Hill. Dine on a barbecue lunch of Hawaiian raised Angus burgers, teriyaki chicken, veggie burgers, pasta salad and tossed salad. Guests can purchase additional add-ons like sea rockets, SNUBA and a no-host bar.
The Evening Manta Snorkel Adventure is truly awe-inspiring. This 1.5-hour cruise leaves at sunset. A wetsuit, snorkel gear and instruction, hot drinks and warm soup and rolls are provided. Guests ages 7 and up will experience the gentle, harmless Manta rays of Manta Village. Professional guides will help guests into the waters to watch the Manta's feed on plankton. The Travel Channel lists this as a top 10 'must do' activity.
History
Fair Winds started out quite accidentally. The first trimaran was built in 1969 by Michael Dant. He and his wife Janet planned to sail from California to Hawaii. After encountering some damage, the couple stayed in Kona for repairs and fell in love with the place. They relocated there and started Fair Winds Snorkel Cruises, which were very popular. In 1983, the couple's son, Puhi, and his wife purchased Fair Winds Snorkel Cruises. Many changes have come through the years.
New vessels, upgrades, barbecue lunches and more have kept visitors coming back year after year. Bimini tops have replaced the sails and masts. A sport fishing boat, the Capt Jack, has joined the fleet. Luxuries like restrooms, a commercial grill, and individual seating draw guests to Fair Winds. Exciting cruises like the nighttime Manta snorkel make Fair Winds a great company to get a feel of real Hawaiian snorkeling with professionals who love the islands and the ocean surrounding them.
Get the Best out of Your Snorkeling
Use sunscreen often
Be aware of wave conditions
Do not feed the fish
Pull long hair into braids
Don't touch the coral
Use a flotation device if necessary
Relax and enjoy the experience
Fair Winds Snorkeling looks forward to welcoming you and your family on your next visit to Hawaii.
Want to keep dipping your toes in our beautiful oceans without the empty wallet? Check out the Shaka Gold Card courtesy of Hawaii Fun. They can find discounts you won't see anywhere else, so you can keep on exploring!