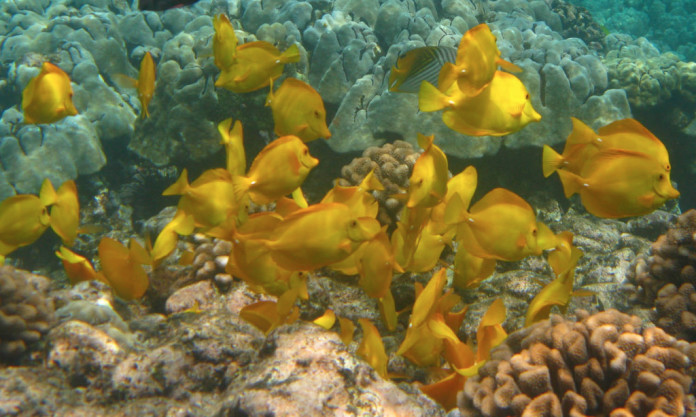 When visiting the Big Island of Hawaii, dare to experience what the majority of Island visitors do not, touring the South Kona Coast from the perspective of a Sea Quest Raft and Snorkeling tour. Before booking, however, be sure to get a Shaka Gold Card from HawaiiFun.org for only $30! This small expenditure will reap you savings of 10-25% at Sea Quest as well as numerous other spots on the Big Island and throughout Hawaii.
What makes Sea Quest Special?
Besides their fun, skilled, and adventure loving captains and crews, it's their boats! The four Sea Quest rafts, Sea Quell, Kai Imi, Lilikoi, and Manta Raiv are all rigid hull inflatable rafts designed for just 14 special guests and the crew. Because these vessels are smaller and more narrow, an up-close experience can be provided on their tours in a way that can't be on larger boats and catamarans. Larger craft just can't sail directly into many of the caves up and down the South Kona Coast the way the Sea Quest fleet can.
Rise and Shine! The South Kona Coast Adventure is About to Begin.
Expedition South Kona is a 35 mile round-trip, five hour adventure which includes snorkeling in three glorious different locations, viewing sea caves and lava tubes, enjoying both a juicy tropical snack and delicious deli lunch, all the while keeping a close eye peeled for dolphins and rays and whales, oh my!
"Captain Bill and Assistant Kai…were very friendly with great personalities
and a TON of knowledge."
Ourfamily603 on TripAdvisor, 2016
After Dark with Manta Rays
The Night Manta Experience comes with hot cocoa and cookies, along with all the gear needed to witness this amazing performance. Be prepared for the experience of a lifetime, watching these gentle giants of the sea soar and glide, flashing a full tonsil shot before going into a full barrel roll. It isn't a bad idea to have a little snorkeling experience under your belt for this one.
"Once at the spot they lay out a surfboard thing with 3 holes with lights that shoot down in the ocean. We had really good luck and for over 20 min strait we had a manta ray shoot up and down and do flips inches from our face."
Luke B. on Yelp, 2016
Five different tours, all of which are eligible for a discount when you use your Shaka Gold Card from HawaiiFun.org are available. Check out the Snorkeling Tours page for a full description of the tours highlighted above, as well as the Deluxe Morning Adventure, Dolphin Encounter and Captain Cook Express tours.
Interested in something private and customized?
If so, book the Exclusive Catamaran Charter. Designed for a maximum of six people, the captains are devoted to their passengers' enjoyment. Four glorious hours in the morning will be spent seeing, and doing, precisely what you would like. Or, allow the captain to find the best spots of the day as you simply kick back and enjoy this
personal and intimate adventure.