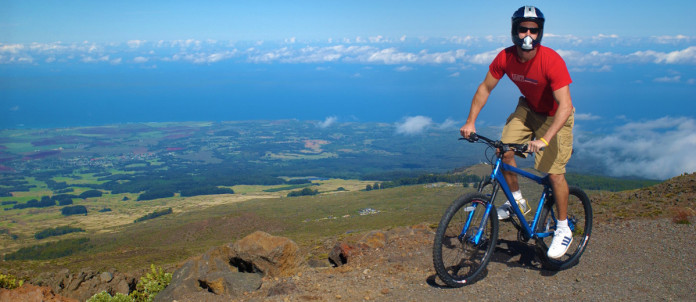 Haleakala Bike Company is 'downhill bike company' in Maui, Hawaii. They take you to places that are at high altitudes and let you cycle your way downhill, experiencing Maui's beautiful scenery as you go.
One of its offerings is the Sunrise Special Trip, in which you are first taken to the summit of Haleakala, Maui's 10,023-feet volcano, at dawn to see the sunrise. Mark Twain himself described seeing the sunrise from here as the most sublime spectacle he had ever witnessed in his whole life.
Haleakala itself means 'House of the Sun' in Hawaiian. According to legend, it was here that Maui, a demigod, imprisoned the Sun so as to extend the duration of daylight on the island. In summer, daylight can be as long as 13.5 hours.
After enjoying the sunrise, you are taken to a location in the Haleakala National Park from where you can cycle down  to the base from an elevation of some 6,500 feet.
This 25-mile long biking trip also involves about 29 switchbacks through some of the most wondrous scenery in the world. For those who like to wake up with the sun and not before, there is a similar package which starts later at 9 AM. Both these packages involve a two-hour van ride through Haleakala National Park before you are taken to the summit. If you are an avid biker who would rather leave this out, there is a Haleakala Express package where you can do the cycling part alone. The bikes are well-maintained, and there are bikes for all ages.
The slopes aren't steep, but rather gentle ('graceful' is how someone put it), so much that you could cruise down without pedaling, stopping on the way when you see something that captures your imagination. One user called it 'perfect for lazy bikers', so it is not like you will have to actually pedal for 25 miles.
Not a biker? The van trip to the summit to see the sunrise can be had alone as well. There is also a day-long van trip for those want to partake of all that Maui has to offer.
Why choose Haleakala Bike Company?
Haleakala Bike Company has earned the 2015 Certificate of Excellence from TripAdvisor. This certification is given only to the top ten percent of all companies which have high ratings on TripAdvisor, contributed by those who have used their services. Why this is in no way insignificant is that the assessment is done globally, and spans across all sectors of the travel industry. Out of over 1,100 reviews, 860 of them place Haleakala Bike Company at the highest level of 'Excellent', which equates to five stars out of five. Of the remaining, 173 reviews award it four stars out of five.
Haleakala Bike Company's biking packages are the only biking activities among TripAdvisor's 'Seven Things to Do in Haleakala National Park'.
It is already cheaper than other tour companies – but here is a way to get them at even cheaper rates!
A Shaka Gold Membership from HawaiiFun.org, priced at $30, enables you to enjoy discounts ranging from 10-25%. What this means is that you more or less recover your investment with just your first booking, even if it is for a solo traveler. For a group booking, the total cost savings could be hundreds of dollars.