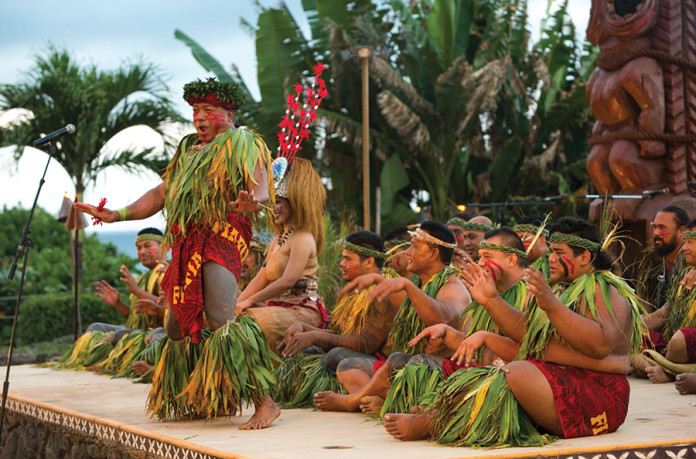 Luau tradition's history
You probably know that a trip to Hawaii is incomplete without experiencing a Hawaiian luau. This traditional feast, whose roots date back to the 19th century, is no longer just an event that locals organize to mark the celebration of birthdays, graduations and good harvest. It also lets visiting touristsget a sneak peak at Hawaii's fun side. It lets you experience the best of Polynesian culture's cuisine and entertainment, and you'll be hoping that it does not come to an end. That's what most of Chief Luau's guests say anyway! If you are looking for an interactive and fun luau in Hawaii, then you should certainly give Chief's Luau a try.
Chief's Luau overview
Luaus are not difficult to come by when you are in Hawaii, but an epic luau certainly is. To make sure that you get all the bang for your buck and your time as well, you'll want to pick the best which, for many years now, has been Chief's Luau. During the event, Chief Sielu, who leads the Luau, takes you through his rich Polynesian heritage along with his family. He's been touted as one of the island's funniest Polynesian performers and is sometimes referred to as "The Polynesian Comedian." When he takes over a luau, there certainly isn't one dull moment. His popularity and acts with perfect comic timing have garnered him appearances on many shows such as Oprah Winfrey, Late Night Show with David Letterman and The Tonight's Show with Jay Leno. When the Chief does not have you in splits, he will have you in awe as he entertains the audience with his world-champion level fire-knife dancing skills. Set in at the stunning Sea Life Park in the Makapu'u Meadows with gorgeous ocean and mountain vistas, Chief's Luau gives you a chance to learn about Hawaiian traditions, enjoy traditional performances and indulge on a mouth-watering spread of popular luau delicacies to make your trip to Hawaii a memorable one!
Shows
Chief's Luau is great for audiences of all ages, whether you've come to Hawaii by yourself, with your family or a special someone. Prior to the show, visitors get to try their hand at traditional Hawaiian arts such as weaving palm headdresses and rubbing dry wood to start a fire. Visitors can also get a traditional temporary tattoo or take part in hula dancing lessons. The Chief hosts the show filling you in with interesting details of Polynesian culture with his witty monologue. One moment he's cracking you up with his jokes, he's strumming the guitar and singing in the next moment, and scrambling up a coconut tree before you know it! The fire dancing is a highlight of the show, and the graceful dancers and the Chief's knife-fire dancing skills leave most of the guests transfixed. Don't hesitate to volunteer when the dancers take to the stage, to join in and pick up a few moves from them!
There are three different seating packages to choose from: The Standard Package seats guests in the standard section (third closest from the stage) and includes an all-you-can-eat Hawaiian luau buffet, shell lei greeting and one adult beverage; the Paradise Package includes seating at the center section of the luau grounds, a Kukui nut let greeting, two adult beverages and is the first section called to the Hawaiian luau buffet; the Royal Package seats guests immediately by the luau stage and includes a fresh flower lei greeting, three adult beverages, table service, and a mini-tour of Sea Life Park's shark and sea turtle exhibits. Of course, all packages have a fantastic view of the luau stage. Other package add-ons are also available such as round-trip transportation to the luau from Waikiki and Sea Life Park admission packages. For more information, visit ChiefsLuau.com/packages.htm.
Food and beverages
Food is one of the highlights of any luau. In fact, the term "luau" refers to one of the popular dishes that was served at these celebratory feasts in the 1800's. Earlier, certain foods were reserved only for Hawaiian royalty and not the common people. In addition, men and women were not allowed to share meals together as per traditional customs in Hawaii. The luau started out as an exception to these traditions, as men and women from all walks of the community got together to celebrate and honor their Gods on special occasions.
At Chief's Luau, the buffet-style spread features everything from all-time Luau favorites such as Taro rolls and Lomi-Lomi Salmon to native cuisine staples like Poi and Kalua Pork. Accompaniments of island greens such as radish sprouts and mandarin oranges, sweet potatoes and stir-fried vegetables pair well with the mains. You can wash it down with your choice of drink whether it's tropical fruit punch, Mai Tai, wine or beer.
Tips to make the most of your Hawaiian trip
Savings are never a bad thing, and if you are looking to make some savings on your Hawaiian trip you should have a look at HawaiiFun.org's Shaka Gold Card membership. Subscribing to the membership could help you save anywhere between 10 to 25 percent on your vacation which can be used for an entire year. The Gold Card would fetch you savings when you make bookings at Chief's Luau, and offer coverage for up to 4 members on your trip.