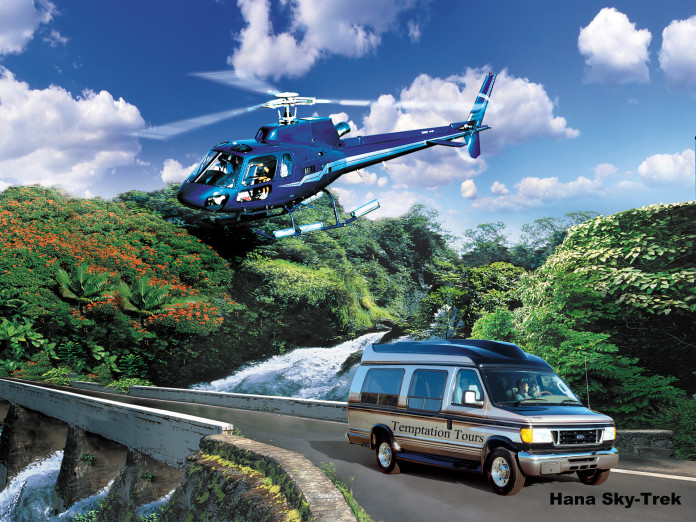 Temptation Tours is a tour company conducting guided tours to some of the remotest locations in Maui that are still untouched by the influx of tourists. These spots retain their breathtaking beauty, and invite you to be amazed.
What sets Temptation Tours apart is that it uses limousine vans with ultra-luxurious interiors. All of them come loaded with drinks, snacks, information booklets and blankets. There are only 6-8 passengers per limo van, and although the package offered is a 'guided' tour, their small number and personal care ensures that you can explore at your own leisure. This is topped by lunches on the beach and the guides have all been certified by the State of Hawaii.
For all your needs
It offers multiple tours, such as the Road to Hana trip series, which itself has variations like a picnic, cave quest, a sky-trek (involving a helicopter ride as well as swimming), and the Ultimate, named so because it is the standard of perfection for both romantics and foodies alike, fully replete with luxury. There is also the Haleakala Sun Trek, which is a helicopter ride at 10,000 feet to the summit of Haleakala, and this is offered at dawn, so that you capture the rays of the morning sun in all its glory. The Haleakala Sunrise tour gets you even more up close and personal, taking you to the rim of the crater.
The Summit Lavender Sojourn enables you to visit the lavender garden overlooking the ocean. A Crater and Rainforest tour, as the name suggests, takes you not only to the crater of Haleakala, Maui's 10,023-feet volcano, but also rainforests on the island. Ship to Shore Excursions transports you from your cruise liner to Maui to witness its beauty and also gets you back on board safely. A Kapalua Ridge Trek tour takes you to Kapalua, where there is not only a picturesque landscape, but also 360-feet-long suspension bridge that itself is located at a height of 1,600 feet. Temptation Tours is also fully capable of customizing your tip to Maui.
What others say about Temptation Tours
Temptation Tours is the winner of the 2015 Certificate of Excellence from TripAdvisor, given only to the Top 10% of all companies worldwide (across all sectors) that earn high ratings from travelers on TripAdvisor. 200 out of 246 reviews on the travel website rank Temptation Tours at the highest level of 'Excellent' or five stars out of five, with another 31 rating it 'Very Good' or four stars out of five. It is also the highest-ranked limo tour on TripAdvisor's 'Tours & Activities in Kahului'. A tourist with mobility issues from San Diego, California, found Temptation Tours to be the best and everyone who has used Temptation Tours have only high words of praise for the tour guides, who are highly knowledgeable about every place on the tour, and also about the fully-equipped limo vans that are used.
Get the same tours for less
By getting yourself a Shaka Gold Membership for just $30, you stand to enjoy discounts that are worth more. It is worth it even if you are a solo traveler, for the discount on a single booking itself returns your small investment in the card's purchase price. With a group booking, you could find yourself saving hundreds of dollars in the process without compromising on your enjoyment. Visit HawaiiFun.org to learn more.