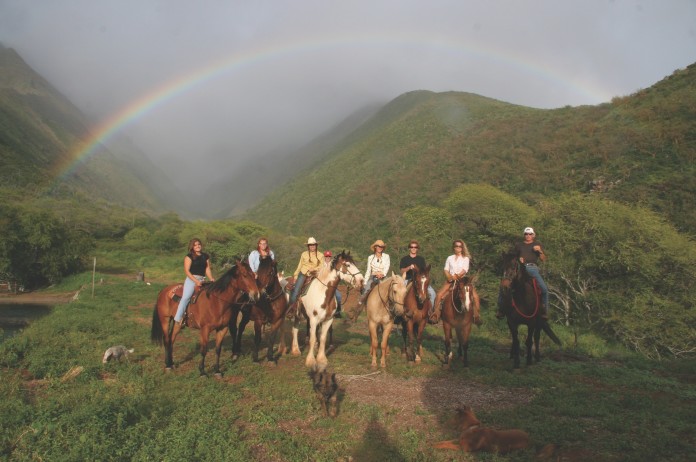 Settled in the cozy and isolated foothills of Launiupoko Valley lies an American treasure that has tourists of all ages galloping into adventure, Lahaina Stables. The Certificate of Excellence award winner offers an extraordinary view of the luscious green landscape and towering mountains whose beauty can only be seen on horseback.
The celebrated stable offers a morning, lunch, and sunset ride, which are each led by a Lahaina Stable team member. During the journey through the incredible Kauaula and Launiupoko Valleys, guests will receive an exclusive view of Maui's secluded beauty.
The Morning Historical Ride will have you gazing at some of the most beautiful scenery Hawaii has to offer while enjoying the history of Hawaii. This adventure begins at 8:30am with a ride next to the Kauaula Stream. This will be followed by a ride up 1,200 feet where guests are treated to some of the most breathtaking views. Guests on this tour will also be treated to stunning scenery of old sugar cane terraces, the Pioneer Mill, and much more! Snacks and beverages will also be provided on this tour.
Lahaina Stable's 2nd adventure begins at 10:30am. The Lunch Ride begins down the trail to Launiupoko Valley. Adventurers will be surrounded by the West Maui Mountains and be greeted to astounding views of Molokai, Lanai and Lahaina Town and Harbor. Of course, as the name would hint, a tasty lunch, snack, and beverage will be provided. Lahaina Stable creates a unique and one of a kind lunch experience, as guests will be treated to lunch inside an authentic Hawaiian hale!
Enjoy paradise riding in the warm evening air under the sunset in Lahaina's Sunset Ride. The sunset ride starts at varying times, depending on the time of season. Drinks and beverages will be provided on this highly popular ride overlooking the Pacific Ocean and West Maui Mountains.
Lahaina Stable's breathtaking tours are each conducted at a leisurely pace, which allows guests of all skill levels and ages the opportunity to take pictures of the awe-inspiring views that Maui has to offer. However, Lahaina Stables has those who are intermediate to advance in skill level covered also, as the stable includes the option to tour with a faster trot!
Overall, one of the most exciting features of the journey is the myths and stories told. During the 2.5-hour trailride, guests will be treated to the amazing history and fables surrounding the island. The folklore ranges from astronomy to the town's local history to everything in between! Each legend, tale, and attraction is fun for the whole family!
Due to the popularity of these tours, horses book up fast so please reserve your spot before arriving to Maui. Don't miss your chance at experiencing Maui's only trailride through the beautiful Kauaula Valley and Launiupoko Valley!
LAHAINA HORSEBACK TIPS: All adventurers should wear a t-shirt and bluejeans with lace-up shoes. Although not mandatory, to make the visit more enjoyable, it's recommended that you bring along sunglasses, sunscreen, cameras and hats. Please look over Lahaina Stable's dress code and other restrictions before arrival. In addition, Lahaina welcomes guests of all experience levels and is very happy to help new riders learn how to horseback ride.
MONEY SAVING IDEAS: Check out HawaiiFun.org for discounts on the Lunch Ride and Early Ride. Also, be sure to get the new and improved Shaka Gold Card that everyone has been raving about.  If you're coming to Hawaii then you need a Shaka Gold Card.  It saves you money on your Hawaiian vacation activities and attractions.  The more you book, the more you save with your Shaka Gold Card.