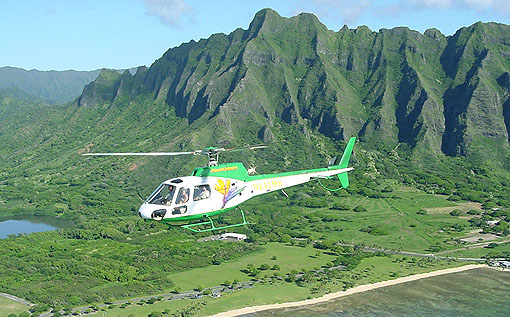 A flawless warm sky painted above stunning mountains, and a majestic clear ocean that stretches out to the warm tickling sand. The features that make up Oahu's scenery are so captivating that it's truly no guess as to why the small island is often called paradise. Now, with Makani Kai's Helicopter rides, you can experience all the beauties of Oahu like never before.
The award-winning Makani Kai Helicopter rides have quickly become a thing of legend. In this incredible tour, guests are taken on a serene trip that blends all the scenery and warm rich history that Oahu has to offer.
Journey across the utopian skies, as you'll become engrossed by historical aerial views of Pearl Harbor, the Arizona Memorial, Aloha Tower, and so much more. Be greeted to the island's natural splendors that include towering Sacred Falls, luscious rain forests, and Sunset Beach, just to name a few!
Hover over the blissful views of significant sites, old battling grounds, the royal palace, lighthouses, beaches, and much more in the Pali Makani Tour. This 30-minute adventure is one of four tours offered by Makani Kai that is guaranteed to create lasting memories.
In the Hidden Oahu Tour, ascend into the air where you'll soon be gazing over all the "must see" attractions and Oahu vistas. Experience world famous beaches, volcanic craters, cascades, and much more in this breathtaking 45-minute adventure.
The Ali'i Sacred Falls Tour is the third and most popular of the four tours offered by Makani Kay Helicopters Company in Oahu. This remarkable 60-minute journey includes everything offered in the other tours. In addition, guests on the Ali'I Tour will experience a one of a kind adventure as they pass further along Sacred Falls to some of the most popular visitor attractions.
In this incredible Doors Off adventure, hover over the most scenic places in Oahu while riding in the iconic helicopter from the Magnum PI television series. Over the course of the 50-minute flight, you'll receive amazing views of beaches, lighthouses, Mount Olomana, and much more! Before embarking on this adventure, be sure to check out the info regarding the Doors Off Tour on the Makani Kai website.
For those staying at the Ko Olina, Disney's Aulani and the Ihilani Resort and Spa, you'll be excited to hear that Makani Kai Helicopter Company offers 2 amazing tours for you! Each of these three tours begins and ends at a Ko Olina resort property that's around 20 miles from Waikiki.
The Ko Olina Circle Island Spectacular is a spectacular adventure that mixes history and stunning scenery into one. In just the 60-minute flight, you'll have an exclusive aerial view of a plethora of amazing sites including the Arizona Memorial, Waikiki Beach, "Jurassic Park" Valley, and so much more!
Venture over historic Pearl Harbor, the majestic Sacred Falls, and world-renowned beaches in the Ko Olina Circle Island Spectacular. This 60-minute ride will introduce you to amazing sites that can only be seen from the air.
From all the helicopter tours in Hawaii, the one component separating Makani Kai from all the rest is their safety measures. Not only will you be riding alongside veteran pilots, but also you'll be in the sky with the only helicopter tour accredited by the International Standard for Business Aircraft Operations. Guests of all ages can enjoy their tour more knowing they're riding with a company that has remained incident free in their twenty plus year history.
Safety isn't the only thing that keeps guests and locals coming back, however. Features including air-conditioning, spacious cabin that seats 6 passengers, noise canceling headsets, and the extra windows for amazing photo opportunities have guests raving!
Be sure to book your tour before arriving, as seats go fast! You can reserve your spot on this adventure Monday through Sunday from 8am to 5pm. We hope to see you here!
LOCATION: 130 Lolana Pl, Honolulu, HI 96819
MAKANI KAI HELICOPTER TIPS: Before departing on this one of a kind excursion, please bring a camera, as words simply cannot capture the beautiful scenery that this tour offers. In addition, be sure to purchase the DVD recording of your event, which will leave you reminiscing on the outstanding views of Hawaii! Be sure to check out the Makani Kai website for all rules and regulations before your departure day. Click here to book your tour and read more details on the tours available. Follow this link to book a private charter flight!
MONEY SAVING TIPS: Check out the Makani Kai website for flight package deals. Check out HawaiiFun.org and make sure that you get the new and improved Shaka Gold Card that everyone has been raving about. If you're coming to Hawaii then you need a Shaka Gold Card. It saves you money on your Hawaiian vacation activities and attractions. The more you book, the more you save with your Shaka Gold Card.
FUN FACT: Makani Kai Helicopters have appeared on the CBS hit show, Hawaii Five-O