Hana, Maui is a place where even locals leave their everyday life to escape to. But the big secret is in the journey getting there. The fresh clean air is lightly scented with eucalyptus, ever so changing into hints of fresh white and yellow ginger, growing wild on the side of the road. Cascading waterfalls magically appear around turns, glistening down the mountainside, out of the rocky roadside; so close you want to reach out of your window to touch it.  Giant vine wrapping around ancient trees, stretching towards the rainbow filled sky, as rivers flow towards the sea from the lush, rain forest mountains.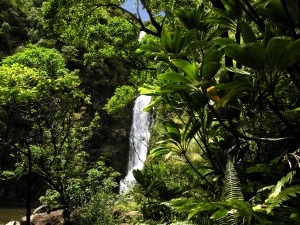 The road to Hana is one of the most famous drive experiences in the world.  Boasting 617 curves and 54 bridges, this road takes you on a tropical, lush journey of cascading waterfalls with enticing swimming holes, hiking trails, bamboo and rainbow eucalyptus forests and black sand beaches.  Not only is this drive a delectable visual overload, but it is deeply rooted in the cultural history of ancient Hawai'i.
There are many scenic lookout points, freshwater swimming ponds with glistening waterfalls and sandy beaches to experience during your drive. Not to mention all the great places to stop for local treats like fresh homemade coconut candy and freshly baked banana bread. Whether, this is your first time to Maui or your annual vacation destination, taking a guided tour to Hana should be on the top of your #MauiMustDo List.  I highly recommend the Hana Picnic Tour with Award Winning Temptation Tours.  It's like taking a semi-private, luxury, first class trip to Hana with your very own certified tour guide.  It doesn't get much better than that.
Let your Hawaii Certified Guide navigate you safely to all the amazing spots you've been dreaming about.  During the drive out, your guide will narrate the rich Hawaiian history behind each stop. They will take you to places you might have missed and teach you about the beliefs and customs of the Hawaiian culture you won't see or might not have heard about.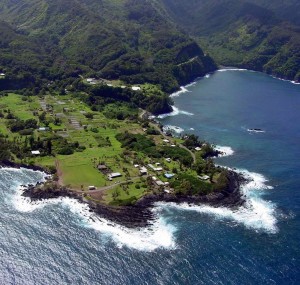 The Hana Picnic Tour begins around 7:00am as your Guide picks you up at your hotel in your Luxury Limo Van, settle into your leather Captain Chair to begin your magical Maui adventure. Some of the stops you will get to experience are Hookipa Beach Park, Ke'anae Peninsula, Pua'a Ka'a State Park, beautiful Hana Bay & Wainapanapa State Park. Not only will you get to experience these places, you will learn about the Hawaiian History of all the plants and animals; and cultural lessons on ancient & modern Hawaiian customs that are still practiced today.  You will enjoy a light morning snack along with a scrumptious beach side lunch on this amazing journey.
HANA TIPS: Always proceed with caution and care when approaching the side of the road for picture moments.  Do not run to the edge of the embankment as there might be sheer drops below. Bring sunscreen, a towel and swimming clothes.  Make sure your camera's are fully charged and you have an extra SD card, you will be capturing lots of moments and making memories that will last a lifetime on this trip.  Do not litter and be respectful of the Aina! Last but not least, ask lots of questions and enjoy the ride!!!
MONEY SAVING IDEAS: Check out Temptation Tours on HawaiiFun.org and make sure that you get the new and improved Shaka Gold Card that everyone has been raving about. If your coming to Hawaii then you need a Shaka Gold Card, it saves you money on your Hawaiian vacation activities and attractions. The more you book, the more you save with your Shaka Gold Card!