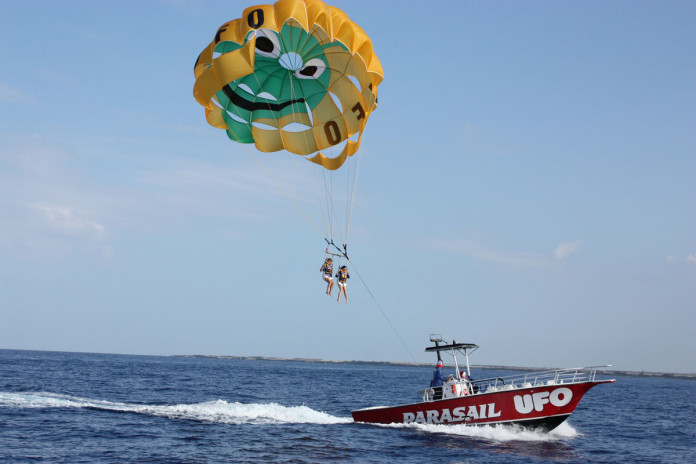 Look up into the sky above Kailua-Kona any day of the year and you may well see something you aren't familiar with, something unidentified even. Take a closer look and discover it's not aliens; it's grinning humans swaying gleefully as they sail the airwaves high above and behind one of the UFO Parasails gleaming fleet of specially designed crafts. Given 4.8 out of 5 stars by more than eighty Facebook reviewers, UFO Parasail has been giving visitors a bird's-eye view of the Big Island and Maui for many years.
"This was so much fun I had to do it twice."
– RnR69 on TripAdvisor, 2016
But wait. Before you book your Parasailing adventure, be sure to get your Shaka Gold Card from HawaiiFun.org for only $30! Your Shaka Gold Card will save you between 10% and 25% at UFO Parasail and many other places throughout the Hawaiian Islands.
Green and Safe
Guest safety and a greener environment are top priorities for the entire staff and crew of UFO Parasail. Relax and feel carefree when you board any one of their strong, specially designed vessels. A special winch system and state of the art hull design will provide you with the thrill of a lifetime you need not worry about. They have also taken the initiative to switch to a lower sulfur fuel which provides for much less particulate matter getting into the water. This keeps the water safer and clearer for you and all of the amazing marine life that call Hawaii home.
Heading to Maui but want to fly the skies even more?
Not to worry. UFO Parasails can get you up and soaring above the sparkling white sandy beaches of Ka'anapali on the Island of Maui in no time between Mid-May and Mid-December, Keep those eyes trained below you and you just might see a pod of dolphins frolicking in the shimmering waters.
There's more!
Whether you are a serious fisherman or a family with children, the Maui Inshore Fishing Experience is just for you. Imagine the thrill of landing one of Hawaii's big game fish! And the best part is that the captain will clean and fillet your catch, if you wish. You're on vacation so leave the dirty work to the talented crew of UFO Parasail.
"Captain Jimmy…got us on the tuna w live mini mackerel baits and we never had time to bottom fish . Other big boats around us skunked out and we had Ahi for everyone."
– James I. on Yelp, 2016
Perhaps you have a special occasion being celebrated, charter an amazing 31' Premium 12 passenger speed boat. Give UFO Parasail a call 24 hours ahead of time and they can even have food catered for your anniversary, birthday, or just your special private getaway. Remember though, get that Shaka Gold Card from HawaiiFun.org to get the biggest bang for your buck on your custom charter tour of the beautiful waters of Maui.