One of my first jobs when I moved to the islands in 1988, was selling activities.  Due to the high price of Helicopter Tours and my lack of first hand knowledge,  I rarely sold air tours. That all changed after my first Helicopter ride. Once I experienced the "WOW Factor" of viewing the islands from above – I was hooked!
There is no other way to get the spectacular, bird's-eye view of the Garden Island except  by helicopter. The helicopters in Hawaii are especially designed for touring. One of Kauai's most popular activities as it affords passengers dramatic views of the island's many areas not accessible by car. Expect to be amazed by awesome vistas and you will not be disappointed.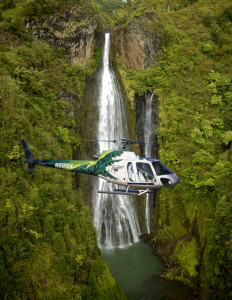 Verdant valleys and cascading waterfalls are only the beginning of a long list of fabulous sights. Your pilot may point out waterfalls that have appeared in popular movies like Jurassic Park, Six Days & Seven Nights, Pirates of the Caribbean, The Descendants, Soul Surfer… just to name a few.
If your lucky enough to experience a rain shower during your flight, watch for a rainbow or possibly the entire circle.
Weather and visibility permitting, Waialeale Crater, Waimea Canyon and The Na Pali Coast are among the most dramatic sights you will see. Colorful Waimea Canyon, nicknamed the "Grand Canyon of the Pacific" by author Mark Twain, is most famous for its varied reddish hues. The sheer cliffs of The Na Pali Coastline plunge to the Pacific Ocean along the remote northwest coastline where ancient Hawaiians used to live. Mt. Waialeale, an extinct volcano crater with an average rainfall of 400-600 inches per year, is considered to be the wettest spot on earth.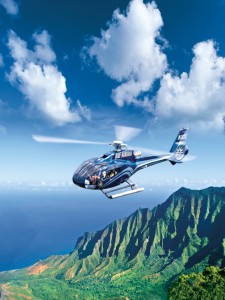 It's best to arrive and check in by the time suggested when you made your reservation. This
allows you ample time to ask questions and watch the happy faces of returning passengers.  Seating aboard the helicopter will be assigned as it is important for proper weight and balance of the aircraft. Once on board, you will want to put your headphones on so you
won't miss a single word. Just sit back, relax and enjoy mother nature's splendor as it unfolds around you.
The temptation to bring your camera on the flight with you is certainly understandable. Before you decide, you may wish to consider that passengers who spend time trying to capture the tour on film can miss the essence of this magical experience. It is more than just breathtaking scenery. Many pilots orchestrate their tours with background music to complement their informative narration, much like a play or movie might be choreographed. Also, most tour operators offer professionally produced videos as well as excellent photographs of the sights to be visited. No one back home needs to know who was actually behind the camera.
Get ready for some of the world's most spectacular scenery and a highlight of your vacation. Taking a Helicopter Tour is one of Top 10 Activities, I recommend to visitors, family and friends. It is well worth every penny.
One of the best deals on Kauai is Safari Helicopter'a Waterfall Deluxe. Regular price $204 (with a Shaka Gold Card only $155 pp).
To book direct with the owners of the businesses visit: www.HawaiiFun.org. To see a list of businesses offering Helicopter Tours on Kauai Click Here.