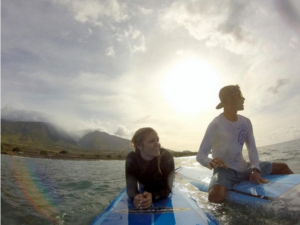 Maui is a gorgeous Hawaiian island. It also makes a fantastic destination for anyone interested in recreational activities such as paddle sports. If you're visiting beautiful Maui, Hawaiian Paddle Sports is a prominent local company that has been helping tourists make the most out of their trips since 2010. The company is well known to specialize tours that are in-depth, educational, and unique for everyone. Travelers who want to learn about authentic Hawaiian community, heritage, history and culture can learn a lot from just one session.
Hawaiian Paddle Sports is a company that emphasizes the value of community, giving back to the people around us on a routine basis. They enjoy guiding eager children and taking them on excursions in the area, routinely participate in paddling activities that promote cancer research and show visitors the extraordinary beauty of hawksbill sea turtles and wildlife overall. If you want to have a Maui travel experience that's like no other, Hawaiian Paddle Sports makes your wish come true. They can help you experience all of the great things the island has to offer. If you appreciate everything from mysterious reefs to underwater photography, this tour is for you.
Knowledgeable Guides
This small company believes in quality over quantity, with friendly and dedicated staff consisting of 10 seasoned guides. They're all qualified professionals with international certification; trained bi-annually to keep up with current knowledge of the islands they guide you through. No other business in the state can compete with their level of experience and knowledge. If you want tour guidance from a certified B-corp. business, this is the precise tour you need.
All clients are granted amazing recreational activity opportunities. A favorite among the locals and visitors is the Hawaiian outrigger canoe tours. Don't worry about that perfect shot, they got you covered with complimentary photographs. If you want access to free images from a talented professional photographer, their Maui tours cover all of the bases and then some.
Specialized for the young and old, the tours are for all fitness abilities. They even often have many different types of pre-existing physical conditions. If you want to participate in a fun and memorable tour that can accommodate everyone, Hawaiian Paddle Sports is the solution. Some of their clients are new in the outdoor activity world. Few might be on multiple trips with the company. They run the gamut.
Hawaiian Paddle Sports stresses the value of convenient family services. They provide fun tours for locals to learn more about their culture and island while having fun in the sun. Tours provide funding through our non-profit services to give back to the aina (the land). The serivce you pay for not only gives you a great experience, but you pay it forward for many more tours to be just as meaningful.
They Care About Hawaii
Hawaiian Paddle Sports is a proud supporter of Malama Nui. Malama Maui Nui is a prominent non-profit group that concentrates on the environment. Once called "Community Work Day Program", the group maintains the island chain to keep it pristine. If you're someone who is enthusiastic about the environment, you can understand exactly why Hawaiian Paddle Sports cares about this hard-working group so much. They work hard to keep it a beautiful and welcoming place for all. The impact of staying at a beautiful place like Maui should help all people understand how precious nature is. The Malama Maui Nui campaign focuses on important concepts such as beautification, recycling, litter prevention, waste management and beyond. If you care about those subjects, you care about Malama Maui Nui, too. You can support this cause by having fun with Hawaiian Paddle sports.
Sold on a trip with Hawaiian Paddle Sports? Don't forget to check out the Shaka Gold Card deal! Get hundreds in savings by finding all of your destinations in one place for a fraction of the cost. Visit Hawaii Fun and see what kind of savings they have in store for you!