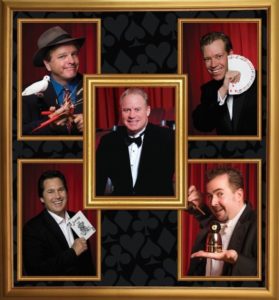 Are You Ready to be Amazed?
Welcome to Warren & Annabelle's Magic in Lahaina. Magic?! On Maui?!
Yes! Warren & Annabelle's is guaranteed to be one of your most fun nights of your Hawaiian vacation. No kidding!
You will experience a first-class, beautiful venue with highly professional and incredibly talented close-up and comedy magicians. There are five leading industry entertainers who rotate frequently throughout the year to perform at Warren & Annabelle's Magic!
These guys are top-notch – from performing at the Presidential Inaugural Ball to national award-winners and now also a Broadway star debuting this December in The Illusionist – Turn of the Century in New York.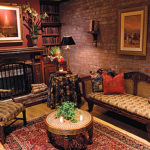 An evening at Warren & Annabelle's will leave you wondering two things: "How did they do that?" and
"Why does my rib cage ache this morning?" Be prepared for side-splitting laughter one minute and being totally dumbfounded the next.
Warren & Annabelle's Magic! offers outstanding entertainment that has earned them the rare

Certificate of Excellence Award from Trip Advisor.
"This combination magic and comedy show is amazing! The magic tricks are incredible and the comedy is gut-busting laugh-so-hard you hurt! What a treat! Well worth the cost of admission, and easily one of the best things to do if its cloudy, rainy or you just need a day out of the sun. Fabulous!"
-MiKeeney, Trip Advisor, September 2016.
The doors opened on this intimate 78-seat theater and have been wowing crowds with "close-up" magic since 1999. With thousands of sold out performances, everyone over 21 (Maui County Liquor Law Regulations) will love this magical night.
Magical Food, too!
The evening starts with you "finding the secret chamber" to Annabelle's Parlor.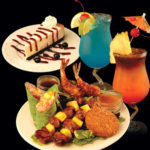 (Annabelle is the resident ghost, but don't worry, she's too busy playing the piano to pay any attention to you.)
Next, you become the magician as you make your delicious food and drinks disappear. You have a choice in tickets and can purchase the totally yummy food and drinks "a la carte" or purchase the "Royal Flush" ticket with enough food to make it your dinner (and it's discounted!). You will feel like royalty with your choice of two beverages – world class cocktails – and a huge platter of gourmet styled "pupus" (appetizers). And save room for the decadent home-made desserts. You can also purchase additional beverages to be served in the theater.
Four Hours of Great Evening Entertainment on Maui
All in all, this is just a great night out for a couple or a group. Groups over ten need to contact them directly for special arrangements as seating is limited and the seats are full at nearly every show.
With only 12 shows per week, this is one evening you will want to plan well in advance. And don't be surprised if you become one of the "regulars". Part of why they stay booked up is because many people will return year after year, booking months in advance.
Booking for Warrens & Annabelle's Magic! is easy. Grab your tickets at Hawaii Fun.
And while you are there, be sure to sign up for their Shaka Gold Card Rewards for extra savings! It's Magic of its own! Use the Shaka Gold Card and get up to 50% savings for up to four people on a wide variety of activities throughout all of Hawaii!