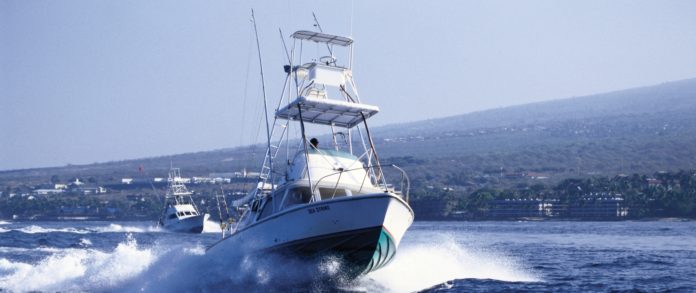 The Experience of a Lifetime, Maui Sportfishing
When in Hawaii do as the Hawaiians do! The ocean is a cultural keystone of the Hawaiian people.  Immerse yourself inside this year round elite sport and hunt upon the beautiful blue Pacific waters for the elusive "Big One". As E. E. Cummings said, "For whatever we lose, It's always our self we find in the sea." That is truer than ever for Hawaiians. Take that journey with the people who have been providing Maui Sportfishing for over three generations, Finest Kind Sportfishing. Enter into 35 years of experience fishing all around the beautiful Hawaiian waters, and catch some of the largest fish the Pacific has to offer. Participate in angling Billfish (Blue Marlin, Striped Marlin, and Spearfish), Mahi-mahi (El Dorado), Ahi (Yellowfin tuna), Ono (Wahoo), and you might see the odd shark or whale emerge from the ocean depths too! Located off of the Historic Lahaina Harbor in Maui, Hawaii, they are waiting to take you on the fishing trip you will never forget.
Well Equipped Fishing Boats Ready to Rock n' Roll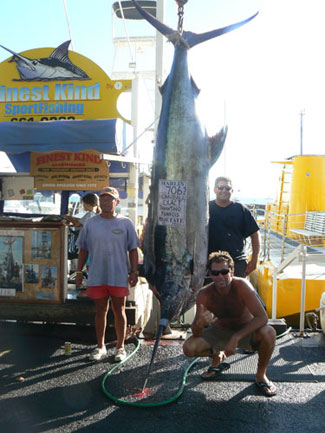 Finest Kind Sportfishing has three boats in its fleet, "Finest Kind", "Reel Hooker" and "Exact". "Finest Kind," a 37′ Merrit built just for sportfishing, has comfortable chairs for the wait as well as the finest tackle of every size for the angler to snag the prize. "Reel Hooker," a 35′ beauty, comes with a live bait tank and capable of breaking records as it did with the largest Marlin ever caught in Maui County, 1,118 pounds! "Exact" has all the modern style you want and the speed to boot, at 31′ it brings you out in sleek style and takes you back to safety and comfort in mind. Don't let her size fool you; she is well equipped and ready to play with the big boys, as she did when she caught a record 725.2 pound Blue Marlin in 2010.
Flexible Fishing Charters for Your Convenience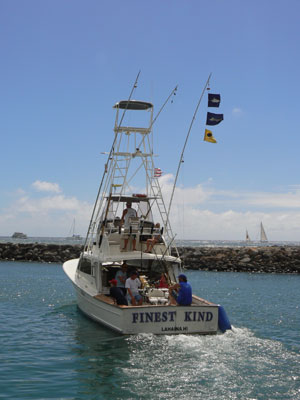 Luckily if you are looking for the short trip or the all-day adventure, Finest Kind Sportfishing has it all. You can fish anywhere between a 2-hour afternoon out on the water to a 10-hour extreme expedition to the deeper buoys, private or shared. There is no guarantee of catching fish, but the experience to get away from it all out on the sea is worth the trip. Experience the ideal mini-vacation on one of the three sportfishing boats in Finest Kind Sportfishing's fleet. Novice or seasoned, you will come back with an original story to tell the friends back home. What are you waiting for? Catch some adventure with Finest Kind Sportfishing!