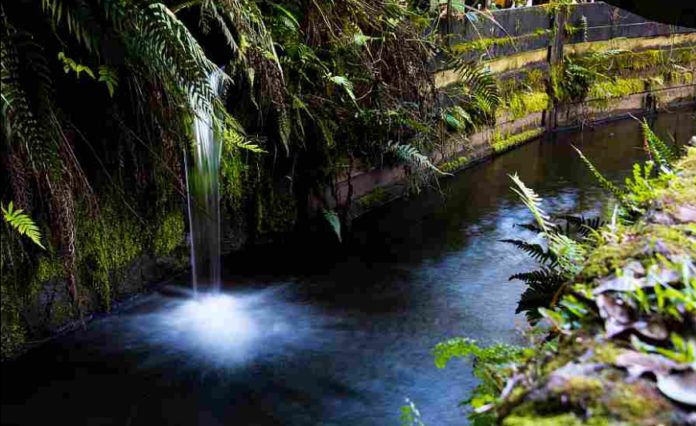 Deep in the rainforest of the Big Island there exists a little known system of irrigation flumes. These concrete tunnels and channels are known as the Kohala Ditch. The term "Flumin' Kohala" refers to the action of riding down the water ways. That's exactly what this unique Big Island adventure is all about.
The Kohala Ditch was initially designed and constructed to transport fresh water from the Kohala Mountains to the far-reaching fields of sugarcane that once covered the lowlands below. While there was plenty of water in Hawaii, it often wasn't in the right place at the right time.
Truly a wonder of human strength and will, this amazing feat of engineering was a complicated, time consuming, dangerous and even deadly undertaking, belied by the simple description "ditch". The 26 mile long Kohala Ditch is comprised of three different types of passage. Totaling sixteen miles, the 57 separate tunnels are lined with carved local rock, the longest single tunnel being nearly a half mile in length. In addition, there are six miles of open ditch lined with concrete, with the remaining four miles being comprised of seven feet wide and six feet deep, tarred and caulked flumes built over the steep ravines and canyons deep in the high mountain rainforest of the Big Island.
"Our guides… were so knowledgeable of the history and culture of the sugarcane industry and the area — and they were funny, too!" – Sara W. on TripAdvisor, May 2016
Changing Times
With the demise of the Hawaiian sugarcane industry, the Ditch now provides water to a variety of small farms and dairies. And lucky for nature lovers and history buffs, guided adventures along its path. Having obtained special permission from private owners, Flumin' Kohala is able to offer a unique and exclusive adventure deep in the historically rich and verdant mountains of Kohala, usually Kapu(forbidden) to all.
Before making your reservations for Flumin' Kohala, consider getting a Shaka Gold Card to take advantage of discounts and special offers.
Flumin' Kohala Rainforest Adventure
When you join your Flumin' Kohala local guides, you will be assisted into your kayaks. (Not to worry you will be with experienced locals who will be with you and helping you all throughout your adventure.) From there you will begin a three mile exploration of the much storied 110 year old work of engineering genius, the Kohala Ditch. While leisurely floating along on your journey, your guides will talk story, regaling you with the history of the area, the sugar plantations and the surrounding nature. While you experience this rare opportunity to view and access lush private lands, streams, waterfalls and other natural wonders, the music of the water and the Island wildlife will serenade you all along the way.
"…we've been to the Big Island several times, (but) this was a first for us. Highly recommend and you won't be disappointed." – William C. on Yelp, April 2016