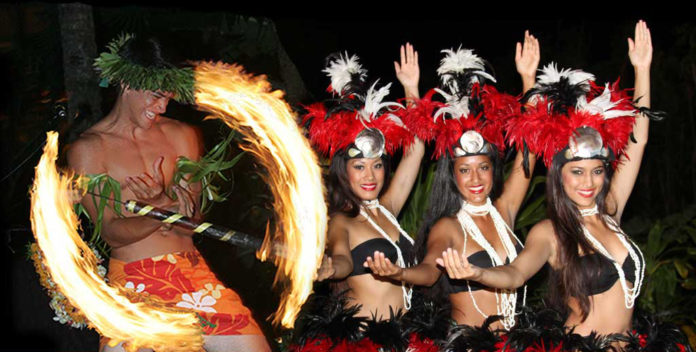 To dine or not to dine?
Would you like to experience the dances of Polynesia without the crowds and lines of a long buffet? Then the Hawaii Alive Luau show at the Kauai Marriott Resort and Beach Club, offered each Monday evening, might be just what you're looking for. Arrive early to enjoy a bountiful Hawaiian dinner elegantly plated and served to you in the Marriott Kukui Restaurant. Or, if you would prefer, get there after your own Island dinner plans have concluded and simply sit back, relax and enjoy the beauty and grace of the performers in their vivid and spectacular costumes.
Before making your reservations for Hawaii Alive, consider getting a Shaka Gold Card to take advantage of discounts and special offers.
Should you decide to dine as part of your Luau experience, the prix fixe menu will delight your palate with traditional Kalua Pig, Huli Huli Chicken, Lomi Salmon along with delicious Island accompaniments. Included with dinner is your choice of a Mai Tai, a glass of house wine or a beer. For the keikei (children) in your party, there are 'Kids Favorites'. They can choose between grilled cheese, cheeseburger, chicken tenders or a Margarita pizza along with a choice of side and a beverage.
After dinner
Perhaps a stroll on beautiful Kalapaki Beach after you dine and before the show begins would be nice. This is a great opportunity to enjoy the ocean breezes, swaying palm trees and perhaps shoot a few pictures with your family and friends before being seated for the fantastic entertainment to come.
And now for the show!
At the appointed time, make your way to Niihau Court at the Marriott Resort, set amidst tiki torches and coconut palms, and find yourself immersed in the Hawaii of yesterday & today by the singers, drummers, musicians and dancers of Hawaiis well respected Punua family. Now in its 53rd year, Hawaii Alive is one of the longest continually running shows on the Islands.
"…the actual hula and other South Pacific dancing…was quite good. The fire dancers were extremely fun to watch. The highlight for several of us were the Tahitian dancers, very fast action and highly skilled performers" – Derbyking98 on Tripadvisor, January 2016
The Luau entertainment includes dances which tell the story of the many Polynesian peoples that migrated across the South Pacific and brought their canoes to rest on Kauai. Kahiko, is the name of the ancient hula, and 'Oli is the name of the traditional Island chants. From Tahiti come the heart racing dances where talented hips fly so quickly your eyes might cross! And from the Samoan Islands come the sometimes frightening, but always thrilling, traditional Polynesian Fire Dances. During interludes, the fun and energetic narrator will talk story, explaining the origins, meaning and history of the songs and dances being performed for you. You will even have the opportunity to learn a hula yourself!
"..The local folklore is an extra you don't get with most luaus, I can tell they [the Punua Family] have been dancing for generations." – James B. on Tripadvisor, August 2015