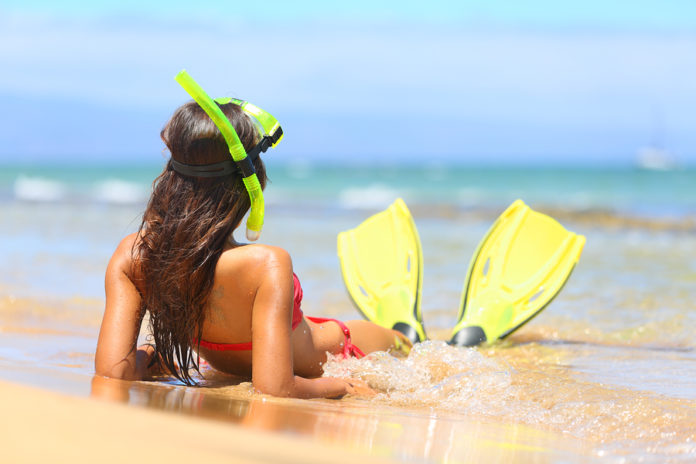 A cooler and quieter area on the popular island of Maui, Ma'alaea Bay, located on the southeastern shore of the island, is where the breezes make it so comfortable that air-conditioning is often not needed when indoors. The miles long beach is located next to a protected nature preserve and is perfect for that leisurely stroll along the sand while enjoying the tropical beauty of the Bay and watching as boats smoothly putt their way in and out of the harbor. The departure spot for some of the best whale watching, sailing, diving and snorkeling adventures in the world, it is centrally located between between the Kahului Airport and Lahaina Ka'anapali resort areas.
Diving and Snorkeling adventures will transport you to Molokini Islet where its crescent shape protects divers from waves and the channels powerful currents. Experienced scuba divers often dive off the 300-foot sheer outer wall, using the channel currents to carry them along as they explore the undersea world. In the morning, when winds are calmer, smaller tour boats can also bring guests to safely snorkel the back wall of Molokini or to glory in the wild beauty of turtles and dolphins along Maui's beautiful coastline.
Check out Friendly Charters SNUBA diving. SNUBA is an exploration hybrid of snorkeling and scuba, combining the ease of snorkeling with the ability to breathe underwater like Scuba Diving. It is easy, safe and simple with no diving or snorkeling experience necessary! Checkout everything Friendly Charters has to offer.
Ma'alaea Bay is great for body surfing and surfing when afternoon winds kick up. When a robust south swell hits Maui, surfers from far and near head for Maʻalaea Bay to have a chance to experience the tubular perfection of one of the world's fastest rideable waves, the legendary Maʻalaea Pipeline. Perhaps you would like to body surf or prepare yourself to catch the "Pipeline". Maui Waveriders-Kihei offers surfing lessons as well as SUP (Stand Up Paddleboard) lessons.
Located just across the road from Ma'alaea Bay and often referred to as the Hawaiian Aquarium, The Maui Ocean Center rivals the National Aquarium in Baltimore as one of the finest underwater displays ever created. A magnificently replicated coral reef ecosystem features the largest collection of live Pacific Corals on the planet. It is also home to a 750,000 gallon open ocean exhibit with a 54 foot observatory tunnel from which you can watch sea turtles and many other native Hawaiian marine species.
If your Hawaiian vacation has you on Maui between mid-December and mid-April, do not miss the opportunity to embark upon a whale watching tour with Trilogy Excursions. Departing from Ma'alaea Harbor on catamarans for only 35 – 40 people, everyone gets a front row seat. Hydrophones are also onboard to give explorers the opportunity to listen to the beautiful song of the magnificent Humpback whales.
Before booking your adventures for Maalaea Bay, consider getting a Shaka Gold Card to take advantage of discounts and special offers.