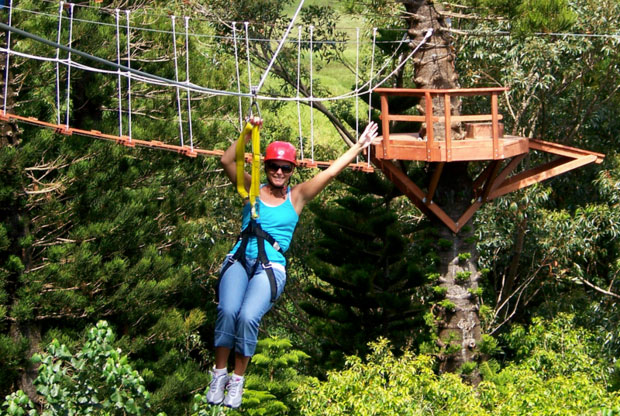 The First Treetop Zipline Experience on Kauai and the Hawaiian Islands
The Just Live! zipline course is located in a magnificent Norfolk Island Pine forest not far from Poipu and Kapa'a Town that is surrounded by thousands of acres of the picturesque and historic Grove Farm Sugar Plantation and the Halenanahu Reservoir. Picture the stirring views you will have of Mt. Kawaikini (Kauai's tallest mountain), Mt. Waiale'ale (wettest spot on earth), all the way down to Mt. Kahili and Mt. Kalualea.
Whether you're vacationing on Kauai or an island local, ziplining is a thrilling activity for the complete beginner or for the advanced adventurer. The mission of Just Live! is to provide unique and eco-friendly adventures that enhance the positive development of each of their guests with safety being priority one.
So what sets this Kauai Zipline apart from the others, you ask?
Just Live! has multiple zipline runs, canopy bridge crossings, a climbing wall, a rappelling tower, a challenge course, a monster swing and much more. (Check out their photo-gallery here.) For group fun or an individual challenge, three different Zipline Tours are offered, each with an increasing level of adventure, physical and mental demand, and most importantly, EXCITEMENT!
If you are looking for your first zipline experience, try out the Wikiwiki Tour. Wikiwiki is Hawaiian for 'quick'. This short adventure takes approximately 2.5 hours, start to finish, and features three ziplines and two canopy bridges to take in the views.
"…an amazing time with the team at Just Live! Fun and friendly with your safety their #1 priority! Definitely going back next time we are here! Time well spent!"
Marriott Beach Club Group on Tripadvisor, 2016
Maybe you'd like to spend a little longer up in the trees. If so, check out the 3.5 hour Zipline Treetop Tour. You will fly along seven different ziplines and traipse across four separate canopy bridges, giving you hours of tummy tickling thrills and plenty of opportunities for enjoying a birds' eye view of the magnificent surroundings.
Or perhaps you are a true adrenaline junkie and want to experience a heart pumping climb over the 60' rock climbing wall, the amazing drop of the Monster Swing and the glorious views while rappelling back down to the earth. If this sounds like you then book the Zipline Eco-Adventure for 4.5 hours of heart pounding thrills.
"… not sure ziplining was for us, but the local expert said [Just Live!] is one of the best (the only one above the treetops)… We had a GREAT time! The entire crew was fantastic and really made the whole experience fun and positive."
P. Y. H. on Yelp, 2015
Mission Possible
In addition to tours for thrill-seekers, Just live! offers team building packages, outstanding for developing trust within groups as well as building problem solving skills. These challenge adventures are available for companies, schools, or any group that wants to become closer, learn problem solving or simply get to know one another better. Check out the activities below, choose the perfect combination for your group…
Ziplines or Zipline Tour
Rock Wall Climbing
Rappelling
Monster Swing
Low & High Ropes Challenge Course Activities
…or allow the experienced staff at Just Live! to create a custom adventure designed especially for you!!